Sunflower is an only child, and when her father is sent to the rural Cadre School at the beginning of the Cultural Revolution, she has to go with him. Her father is an established artist from the city and finds his new life of physical labor and endless meetings exhausting. Sunflower is lonely and longs to play with the local children in the village across the river. When her father tragically drowns, Sunflower is taken in by the poorest family in the village, a family with a son named Bronze. Until Sunflower joins his family, Bronze was an only child, too, and hasn't spoken a word since he was traumatized by a terrible fire. Bronze and Sunflower become inseparable, understanding each other as only the closest friends can. Translated from Mandarin, the story meanders gracefully through the challenges that face the family, creating a timeless story of the trials of poverty and the power of love and loyalty to overcome hardship.
A beautifully written, timeless tale by Cao Wenxuan, best-selling Chinese author and 2016 recipient of the prestigious Hans Christian Andersen Award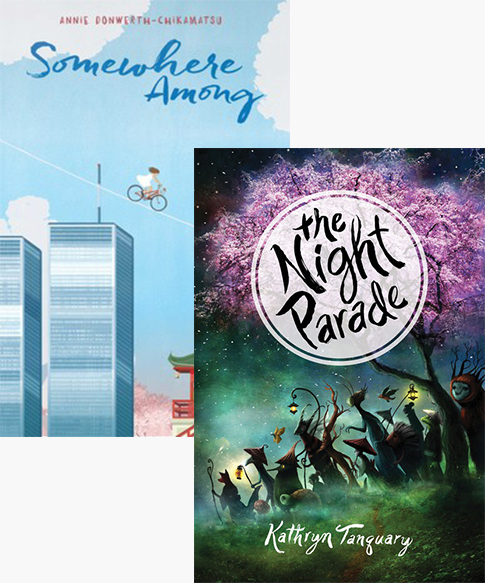 Somewhere Among Through the eyes of a young girl students can relate to the loneliness and fear of not-fitting in and not knowing the cultural cues encountered in entering a new school. Ema, the protagonist, is the daughter of an American mother and a Japanese father, living in Japan and happy with her home and friends. Her mother's pregnancy necessitates that they live for a semester at her grandparents' home, in suburban Tokyo, where Ema experiences more of Japanese culture while she navigates her way through it at home and school, and spends more time with her grandmother.
The Night Parade A fantasy story that will appeal to many middle school students, The Night Parade bridges past and present Japanese cultural customs. It is filled with wonder and imagination, as well as respect and admiration for cultural tradition, and provides a window into Japanese mythology