A popular Japanese folk tale in which a crane pays back an obligation by becoming human is retold with an unusual ending and with haiku-sprinkled prose.
In this version, Yasuhiro—a young man who lives with Ryota, his embittered, widowed father—carefully frees an enormous crane from a trap pinning its foot to the snow-covered, "sharp buckwheat stubble of the landlord's field." As the crane flies away, Yasuhiro heads for home with firewood he has been gathering. Two nights later a beautiful maiden appears at the door, asking for a place to live in exchange for labor. Ryota accepts her offer, warning her that she must work hard and not be lazy or steal. When Ryota's own attempts to find manual labor dwindle, the maiden, who calls herself Hiroko, offers to weave silk for him to sell, with the caveat that neither he nor Yasuhiro open the door of the weaving room while she is inside. The polished, full-color illustrations, strongly reminiscent of art by the fairy-tale illustrator Adrienne Segur, complement the lyrical text. Interspersed, color-coded haiku reveal the characters' unspoken thoughts, adding an excellent dimension with potential for drama-group presentations.
In this new additon to the Little Kunoichi series, author and illustrator Sanae Ishida's beautiful art pairs with a gentle, fun lesson, featuring Little Kunoichi's buddy, Chibi Samurai.

Inspired by Little Kunoichi's relationship with her pet ninja bunny, Chibi Samurai sets off to find a companion for himself. He explores many possibilities from Japanese culture--both real and mythical--thinking about how each creature might be as a pet.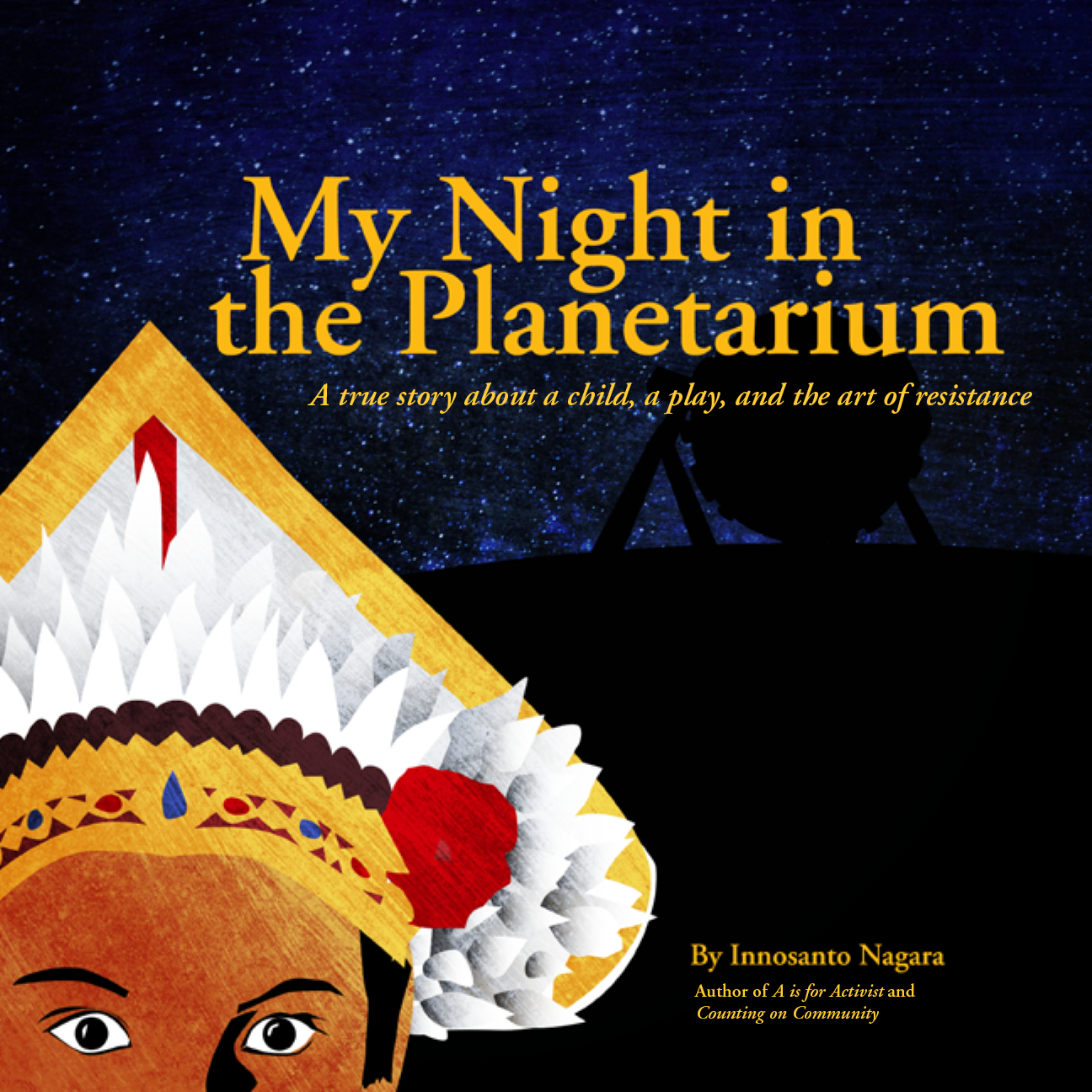 My Night in the Planetarium : a true story about a child, a play, and the act of resistance
Non-Fiction – Set in Indonesia
The Indonesian-born graphic designer, Innosanto Nagara, shares "a true story about a child, a play, and the act of resistance" in his award-winning autobiographical picture book. Starting with a lightly humorous overview of Indonesian history, through colonization by the Dutch, he leads up to 1977, a pivotal moment in his life, during the brutal rule of President Suharto. Nagara's stunning illustrations depict a play performed in traditional Indonesian dance costumes created and performed by his father in which an unspecified army general is criticized. Police are sent to arrest his father and Innosanto and his mother flee from the production and hide in an adjacent planetarium. What could be a terrifying experience for a child becomes a night filled with the security of strong parental love and the magic of the stars. Nagara's newest work, along with his earlier books, show the heroic potential of ordinary people and the power of art to challenge injustice.