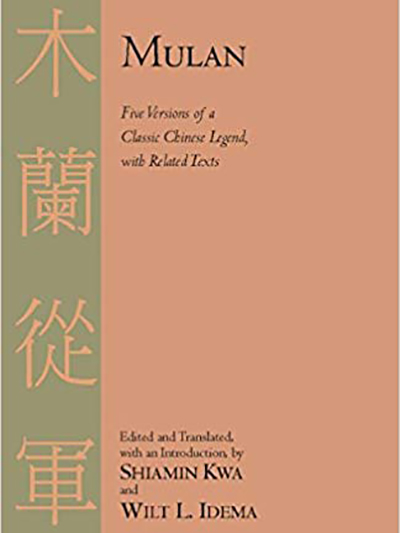 Mulan: Five Versions of a Classic Chinese Legend
Understanding China through Drama – Online Book Group
by Shiamin Kwa and Wilt L. Idema (Translators)
October 23 - November 19, 2019
4 Sessions; 8 PD Hours
Moderator: Lynn Kalinauskas

The legend of Mulan – the daughter who disguises herself as a man in father's armor and heads off to war – remains one of the most popular Chinese folktales despite (or because of) its lack of supernatural forces.
This volume offers lively translations of the earliest recorded version of the legend and several later iterations of the tale (including the screenplay of the hugely successful 1939 Chinese film Mulan Joins the Army), illustrating the many ways that reinterpretations of this basic story reflect changes in Chinese cultural, political, and sexual attitudes.
The course will trace the evolution of the Mulan legend and its significance in the history of Chinese popular culture. The text offers annotations explaining terms and references unfamiliar to Western readers, a glossary, and a comprehensive bibliography which will further enhance the value of bringing this book to your classroom and students.